Whether you are a hot pepper enthusiast or not, you have probably heard about the name Naga Viper pepper. More commonly known as Siling Demonyo or Marusot here in the Philippines, we Pinoys had a relatively long-standing love-hate relationship with this pepper. The Siling Demonyo is a well-established hot pepper in the country; however, how it came about on our shores is still quite a mystery. So, before you go and jump in the Siling Demonyo Eating Challenge, let's first get to know this bad boy.
HISTORY AND ORIGINS
Although some Pinoys claim that the Naga Viper is native to the country, this hot pepper is, in fact, of British origins. The hot pepper was conceived in Cark, Cumbria, North England from the infamous The Chili Pepper Company by none other than its owner Gerald Fowler. It has only been two decades since it first came spewing heat into the world in 2010. However, the Naga Viper has already established its existence in our local culture and delicacy; hence most Filipinos feel like it's been with us for generations.
Wondering who are the lucky parents of this mouth-numbing pepper? Well, the Naga Viper descended from not just two but three hot pepper titleholders. Its distinct features came from the mixture of the spice-bombing trio composed of the Ghost Pepper, the Trinidad Scorpion, and the Naga Morichi. Fowler definitely up the game when breeding this bad boy, making it one of the rarer pepper breeds in the world.
CREATOR OF THE NAGA VIPER
In our long history, it's known that some freaky accidents can actually bring about great discoveries, not the Naga Viper. This hot pepper was carefully bred by its mastermind, Gerald Fowler. The owner and founder of the infamous The Chili Pepper Company, Fowler hadn't exactly dreamt of growing peppers for a living when he was young. In fact, his sudden interest in these hot pods came about thanks to a parrot named Murphy. Apparently, it was a gift from his uncle for his father and it came with a chili plant. (Gander, 2017).
It's been almost three decades since Fowler established his own hot pepper company. And, it has grown so much from just the simple online selling of chili seeds way back then. They now grow over 50 different varieties of peppers ranging from the mild to the hottest in the world, including Carolina Reapers. After dedicating most of his adult life to growing peppers. Fowler swears that eating them is as easy as biting an apple, the heat doesn't bother his well-trained tastebuds anymore.
Nowadays, The Chili Pepper Company is selling more than just seedlings and pepper seeds. They have also branched into creating homemade processed products as well such as hot sauces and pepper sprays. And, more recently they have even tapped on the idea of creating tear-gases using hot peppers.
SILING DEMONYO OF THE PHILIPPINES
There's not much about the Siling Demonyo on the internet, believe me, I tried searching. How and when it first arrived on our country's shores is still a mystery really. However, as some locals attested, it has been growing here for some time now. Although you can now typically find demonyong sili growers in various parts of the Philippines, it is mostly grown in Southern Luzon around the Bicol Region. This doesn't come much of a surprise since Bicol is famed as the sili capital of the Philippines.
Pinoys who have been growing demonyong sili for years now claim that this is more of a local variant of the famed Naga Viper. These claims are backed by the fact that the Naga Viper originated in the cold and temperate region of England. Meanwhile, the demonyong sili has already evolved and acclimatized with our hotter and very humid tropical climate.
NAGA VIPER BOTANY
The Pod
To describe a Naga Viper simply put it looks like an evolved Naga Morich with Ghost Pepper and Trinidad Scorpion pod characteristics. It has the typical Naga Morich pod shape smacked with the gnarly outer skin of a Ghost Pepper and tail-like end like the Trinidad Scorpion. Like most hot peppers, the Naga Viper has glossy skin and a bright golden orange to red hue when mature. However, being a three-way hybrid, it is still considered unstable. So, don't be surprised if your pods suddenly look or taste different than the usual.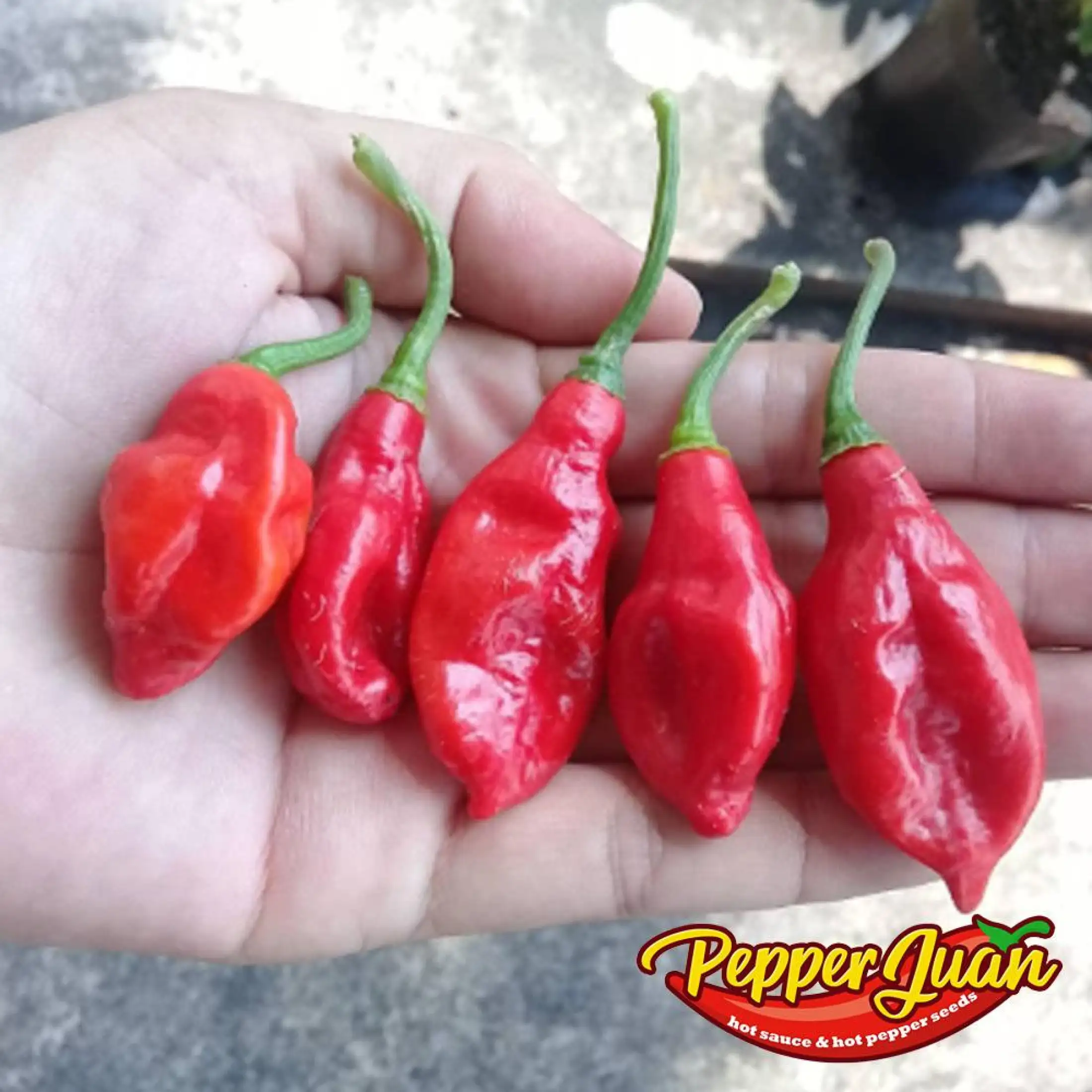 The Heat Level and Flavor
Being the demon child (pun intended) of three of the hottest pepper, the Naga Viper packs a serious punch on the heat level section. Based on its recorded SHU, this hot pepper gets as hot as 900,000 up to even 1.4 million. This is why it wasn't really surprising that it took the title of the hottest pepper in the world in 2011. Sadly, the Naga Viper's reign didn't last long, and was booted out by its very own parent, Trinidad Moruga Scorpion, the year after.
The Naga Viper is more of a slow-burner kind of hot pepper. The kick comes in after several seconds to about a minute, and boy does it give you one big uppercut in the mouth. Then what comes next is a fruity and sweet flavor, with a hint of tanginess at the end.
HOW TO GROW SILING DEMONYO
Growing SIling Demonyo is relatively easy, just make sure you give them the right amount of TLC. Typically, it takes 90 to 100 days from sowing before this hot pepper plant is considered mature and ready to produce fruits. And, like most peppers, the SIling Demonyo is a bush type but requires a good amount of ground or pot space. After all, they do tend to grow about 36 inches in height and can span up to 30 inches in diameter.
SOWING AND GERMINATING SEEDS
Unlike most of the hottest pepper varieties, germinating SIling Demonyo seeds are easy. You can opt to skip out on the pre-germination ritual and directly sow them on the seedling bed. However, for higher chances of getting all of your seeds to germinate, we do recommend that you do the Tissue Paper Method beforehand. You may also employ other germination techniques such as those we have outlined in our previous blog; Pepper Germination: 5 Methods To Break Seed Dormancy.
TRANSPLANTING SILING DEMONYO
Your seedlings are ready for transplanting once their first set of true leaves have finally emerged. They usually show up about a week or two after sowing your seeds. If you chose to grow them on pots, be sure to pick the biggest kind you can find, preferably large to extra large size. However, if you opt to just grow them on the ground then space them out appropriately, at most half a meter apart.
ENVIRONMENTAL CONDITIONS AND MANAGEMENT
To make sure that your Naga Vipers grow healthy, be sure to provide them with at least 6 hours of sunlight every day. Just don't cook them under the heat of noontime sunlight though if you don't want your peppers to wilt and wither. Furthermore, all hot peppers love warmth and heat hence are best grown under temperatures of 60 to 95 degrees Fahrenheit.
When it comes to watering, do it in intervals and in moderate amounts only. Overwatering can cause stress and anaerobic conditions which can lead to root degradation and microorganism growth. Meanwhile, for fertilizing, a good dose of magnesium is a must as SIling Demonyo do tend to get magnesium deficiency. You can simply how to properly fertilize pepper plants here.