Are you a sworn lover of everything spicy and hot? Then perhaps you have extensive knowledge about peppers. But, are you sure that you already know everything that there is to know about this sweet and fiery fruit? Well, no need to worry because we have compiled some interesting facts about peppers that may just blow your mind.
Peppers are our all-time favorite flavor kickers in our dishes. And they come in various sizes, shapes, colors, and flavors. So let's delve into the fiery pits of this fruit and discover their hidden secrets. Because there is more to peppers than meets the eye.
1. CASEIN DEFEATS CAPSAICIN
Have you ever tried to stave off the burning sensation after eating hot and spicy dishes with cold water but it didn't work? That's because the substance in peppers that sends our brain's heat sensors to frenzy mode known as capsaicin is actually packed with natural oils. And we know for a fact oil and water never mix at all, no matter what you do. Then drinking cold water wouldn't remove the burning sensation, rather it'll just spread all over your tongue.
But the main protein in milk, casein, is actually the best heat extinguisher you can ever ask for. Casein has the ability to surround and bind with the capsaicin molecules and gets easily washed away. Think of how soap easily removes grease, that's pretty much the same thing that casein does to capsaicin. So if you get into a hot and spicy pickle, chug down a glass of milk or eat some ice cream rather than drowning yourself in water.
2. IT'S THE PITH NOT THE SEEDS
Growing up, I always thought that the hottest part of peppers is their seeds. I mean that's why our parents would remove the seeds when cooking with peppers right? But I was living in a lie for so long. All because it's not the seeds that are hot and spicy, rather it's the white pith that connects the seed and the pepper flesh. According to studies, the tissues on the white pith produce the highest amount of capsaicin compared to the other parts of the pepper. In fact, pepper seeds don't actually produce any capsaicin at all though other parts can but in smaller concentrations.
3. PEPPER HEAT IS NOT A FLAVOR
When we eat hot peppers like chilies, we always get this burning sensation on our mouth and tongue. Sorry to burst your bubble though, but the hot taste is actually the body's response to pain. It's somewhat the same response we get when we accidentally touch a hot pan for example. But this is how peppers do it. You see there's such a receptor protein in our cells known as "nociceptor". And this protein that is activated by capsaicin is kind of our heat sensors. Once activated, it would then send a signal to our brain and the brain then responds by giving us a shock of pain on our tongues. Pretty cool right?
4. HOT PEPPERS CAN BURN BODY FAT
Yes, you heard it right, peppers can actually aid weight loss. But before you go stuffing your mouth with hot peppers, a disclaimer is that you don't lose a ton of weight just by eating a ton of them. Studies show that people who add peppers on their daily diet are less prone to getting fat. Take the South Koreans as an example. They always have a spicy dish or two every meal, rewarding them with the least obese number of people in the world.
Capsaicin triggers the body to burn more stored fat due to our fight-or-flight response when stressed. Furthermore, it raises the core body temperature during digesting and allows the production of healthy brown fat that kills calories. And the best part is that peppers lower cholesterol levels giving us a healthier heart condition. But again, it's a change of lifestyle and inclusion in the diet that really makes it effective. Munching hundreds of kilos of peppers in one go would just give you severe stomach pain.
5. BELL PEPPERS AND JALAPEÑOS ARE BROTHERS
You very well know that there are thousands of different varieties of peppers all over the world. And some breeders are even breeding new varieties every year. But all of these peppers actually came from five domesticated species. These are Capsicum annuum, Capsicum baccatum, Capsicum chinense, Capsicum frutescens, and Capsicum pubescens. Although most of the hottest peppers cultivated are from the C. chinense group, there are still those which are part of the C. annuum.
In fact, C. annuum species are the most common among other species which include bell peppers and jalapeños. So you may think of these two sides of the opposite coin as brothers I guess. Bell peppers are sweet and are unable to produce capsaicin while jalapeños are quite fiery.
6. DOMESTICATED PEPPERS ARE OLDER THAN JESUS
Just when you thought that humanity's addiction to pepper was just a recent kind of craving, but you're actually wrong. Humans have loved hot and spicy food for a very very long time. In fact, peppers are actually one of the first crops to be domesticated and cultivated in agricultural farms 6000 years ago. That's way back even before Jesus was born. According to archeologists, pepper seeds were found in dig sites in Peru and Mexico that dated back to the said year. Well, they're definitely oldies but goodies.
7. BIRDS ARE IMMUNE TO PEPPER HEAT
Who loves peppers more than humans and are even unable to feel any pain? It's none other than our friendly feathery animals in the air, birds. Despite the fact that we humans do love a kick in the mouth now and then, mammals are actually very prone to the serious effects of capsaicin. Mammals have this receptor known as nociceptors which trigger multiple reactions that our brain thinks as pain. It's such a powerful response, that pepper sprays can even put large mammals such as elephants at the mercy of capsaicin.
Birds are capable of chowing down even the hottest varieties of peppers in the world without even batting an eye. If we can eat only about a mug of hot peppers, birds are able to gobble a big bowl of it. This phenomenon is thanks to the fact that the receptors cells of birds are actually insensitive to capsaicin. And this makes our avian friends the best pepper seed dispersal agents in the world.
8. PEPPER HEAT IS A SHIELD
According to scientists, peppers developed capsaicin as a defense mechanism against those persistent microbes and insects who love peppers more than we do. A number of insects are capable of poking a hole on the pepper fruits despite its semi-tough peel. But who can stop them if these hot babies are too good to resist, right? Capsaicin is also capable of slowing down microbe growth. This is why people in the past use peppers to lengthen there food's shelf life. Furthermore, some researchers discovered that hotter peppers grow when they are in an environment swarming with insects than those with little to none cases.
9. GREEN, RED, YELLOW, AND ORANGE BELL PEPPER ARE FROM THE SAME PLANT
Growing up, have you always believed that green, yellow, and red bell peppers were from different varieties? Sorry to burst your bubble, but they are actually from the same plant. You see the different colors are actually from three different stages of maturity of bell peppers. The first stage is the green bell peppers and they are simply the unripe ones. While the red bell peppers are actually the fully ripe ones. The yellow and orange bell peppers are the maturity stages in between the two.
The difference between these maturity stages is more in the flavor of the bell peppers. If you'd notice, red and yellow bell peppers are sweeter than the green ones which have a tinge of bitterness to them. This is because of the presence of Vitamin C and beta-carotene in red and yellows one that's making them sweeter.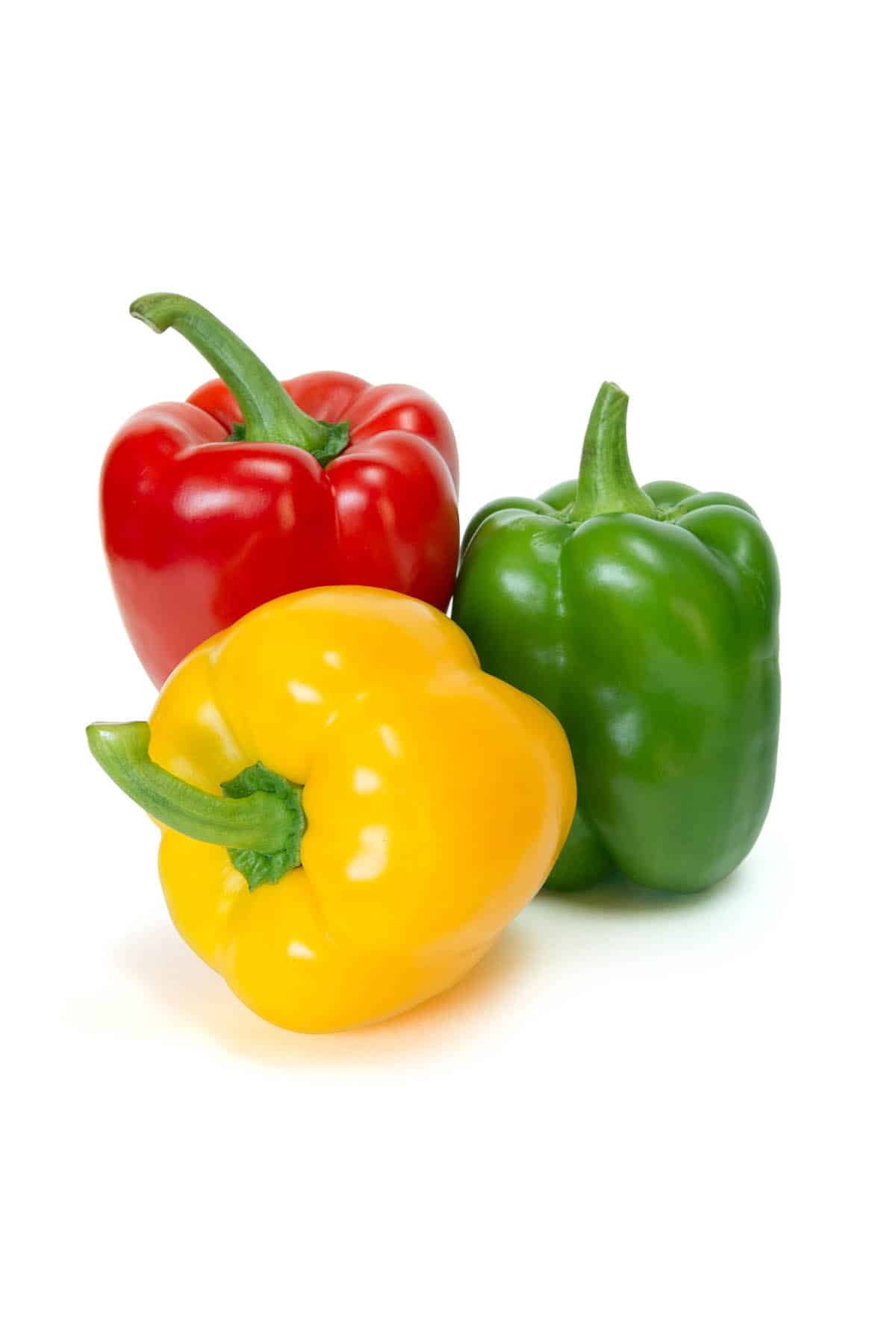 10. CHOCOLATE AND PEPPER ARE A MATCH MADE IN HEAVEN
Believe it or not, but peppers go so well with chocolates that culinary chefs often call them a match made in heaven. Who would have thought that the hot and spicy peppers would be the perfect complement of the sweet and bitter taste of chocolate? Apparently, these two bring out the most subtle flavors of each other giving both a step up in desserts. So if you're up for a more exciting experiment with your hot choco, then try sprinkling in some pepper flakes.